NOTICE:
Due to heavy rains, this year's Fairways for Families event is rescheduled to Monday, November 13, 2023.
A Day of Golf, Networking, and Giving Back
Real Blue Sky is proud to again be the presenting sponsor for the 10th Annual Fairways for Families 2023 Golf Tournament supporting Embrace Texas. The event serves as a testament to the power of community, generosity, and the shared goal of making a difference in the lives of vulnerable children and their caregivers.
Event Details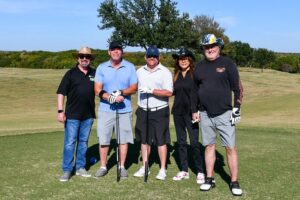 On Monday, November 13, 2023 at 12:00pm, we invite sponsors, teams, and individuals to join us for a memorable day at the Fairways for Families Golf Tournament in Prosper, Texas (sign up below). Participants can look forward to a day filled with golf, networking, and fun. The package includes lunch, green fees, carts, and snacks. The event concludes by 6pm.
In the spirit of Embrace's wholesome events, participants are encouraged to don costumes. While it's not mandatory, there's a hint of a special treat for the most creatively dressed individual or team!
About Embrace Texas
Embrace Texas has been a beacon of hope for fifteen years, connecting willing hands with opportunities to serve children in foster, adoptive, and kinship care, with the goal of a loving, stable family for every child.
Embrace delivers life-changing programs and resources to these vulnerable children and their caregivers, ensuring they receive the support and love they deserve. In addition to direct services, they also help other organizations serve these needs in their own communities.
Bryant's Journey with Embrace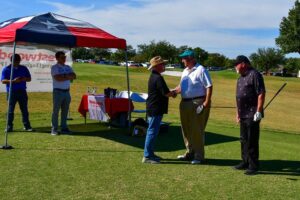 Bryant Richardson's association with Embrace Texas is deeply personal and rooted in shared values. He is an adoptive parent and was a licensed foster parent 2004-2010, fostering infants during that time.
His journey with Embrace began when he met its founders at a foster parent training event in 2007. Their shared passion led to a deep friendship, and they soon invited Bryant to serve on Embrace's advisory board.
Over the years, he has dedicated his time, talents, and resources to the organization, serving multiple terms on the Board of Directors, including terms as president/chairman and a term as treasurer.
Bryant believes in the power of generosity, not just in terms of money but also in terms of time and heart. He emphasizes the importance of serving others and practicing gratitude, as a path to contentment and happiness.
Get Involved
We extend an invitation to you to get involved. Whether you participate in the tournament, donate, or volunteer with Embrace Texas, your generosity makes a significant difference. For more information on how you can be a part of this noble cause, please visit EmbraceTexas.org.
Don't drop the ball (unless you've got a mulligan)!  Join us in making a difference!
To register for the event, visit Fairways for Families 2023